Friday, October 3rd, 2008
---
6:40 pm
- Candy Corn!
This pattern is on Lion brand's website for free.
It was so very easy, and fast too - it's only 3 inches tall.
I'm going to make a bunch of them - some choc. ones too!

Candy Corn!!!




Update - 10-04-08:

Anyone care for some candy?


6:37 pm
- Who wants ice cream???
Well I finished the second diagonal blanket, which is the same as the one I made for Amy - this time I used 5 skeins of yarn instead of the 3 I used for hers - it's a lap blanket so not a bed size, but perfect for wrapping up in while at the computer, or while sitting and watching tv, etc. Didn't take any pictures since it's pretty much the same as Amy's up above.

But... Don informed me that there is new baby in his office - a couple I've met a few times and really like, so I needed to whip up something quickly to add to the other "baby boy" items I had made ahead for the next gift. I needed to make a bunch of adjustments to the pattern I found online, and still need to tweak it a bit, but I think it came out pretty cute for my first try - what do you think?

Banana flavored ice cream cone!


Amy's build-a-bear bunny thinks it's cool!
(couldn't help that pun!!!
)

Friday, September 12th, 2008
---
1:20 pm
- Pumpkins!
I wanted to make something cute for Amy's dorm room for the upcoming season. I found a few patterns, but some were a bit confusing to me as I'm just a basic crocheter, so I simply made a ball (like the eyeballs I've made) and took someone else's idea of wrapping the yarn to make the sections. Also took someone's idea to use twigs as the stems - thought that looked better than the crocheted stems I saw.

What do you think of these pumpkins? I think they look just like the Jack B'little ones that we used to get at the farm stands!



The first one I made...




Now to make 3 more for her roommate -
I figure since she is so far from home, she might like some also.


Here are the 3 for Ashely:

Sunday, September 7th, 2008
---
8:01 am
- Amy's jewel tone lap blanket
I finished Amy's lap blanket last night.
It's about 40 inches square, but knit on the diagonal. The yarn is Lion Brand's Homespun in Fiesta colorway.

Brought it to her dorm on Parents' Day in October and it goes very well with her pillows and room decor!
Saturday, August 23rd, 2008
---
9:55 pm
- Jewel Tone Gnome
Sooooo...

I knit a green and brown gnome for Amy to take to college - posted pictures of him here too. Wellllll... that was back when she was going to do her dorm room in white, black, and

GREEN

. THEN... she changed her mind that she wanted her room to be white, black, and

RED

! So, of course I started knitting a black and red gnome, since the green and brown just would not do now! Got half way done - head, body, and one boot and leg on the black and red too!

Well... when we were at Ikea buying

RED

sheets for her bed, we saw a very pretty purple room set-up with jewel tones as accents. The next day, after having bought the red sheets, she tells me that she wants the purple room instead!
So, being the dutiful mother, I took her BACK down to Ikea and returned all the RED items and then we bought the jewel tones with purple for the bedsheets and quilt cover.

So of course, wanting my daughter to have something homemade from me, I set out to make a purple and jewel toned gnome just 2 days ago. Fortunately, I had all the yarn except for the beard. I just finished him about an hour ago.

Meet

J

E

W

E

L

Tone Gnome!!!
He just HAD to smell the first Charles Grimaldi brugmansia flower - it's so heavenly scented!!!
And it only smells once the sun has gone down!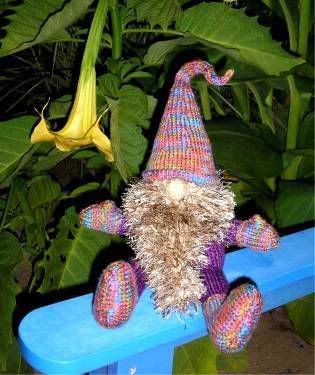 All sweet knit gnomes are serenaded by Flute Frog before embarking on their journey to parts unknown to them. Jewel Tone Gnome wanted Gnomey to join in the festivities!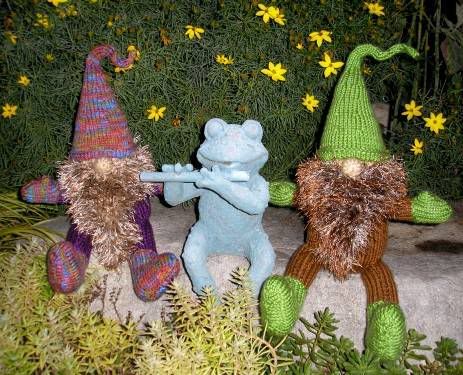 And here they are hanging out on the deck together, before parting tomorrow.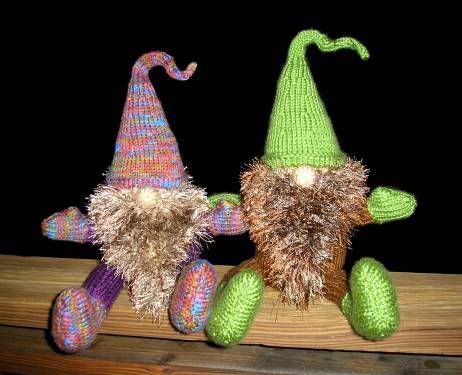 Friday, July 25th, 2008
---
11:57 am
- Another fun and silly project!
It seems that everytime I am finished with a "big" project, I find a simple, and silly thing to make.
Today it was a crocheted "eye ball" for Amy!
She has green eyes, therefore the color. It was such a quick thing to make, that I think I'll make a bunch to have on hand if I ever need a quick little kid gift too. It's about the size of a tennis ball - perfect!
Made a few more just because...
Monday, July 14th, 2008
---
11:53 am
- Gifts for baby Rotem
This is what I've been working on lately. I never got a baby gift out to my cousin's first grandbaby in Israel last summer
, so I decided to make her a sundress - my first one ever. The pattern was sooooooo easy, and I like the way it came out
- I did make it longer than the pattern called for because I hadn't seen that it really was for a top and not a dress. It looks better in person than it does in the picture.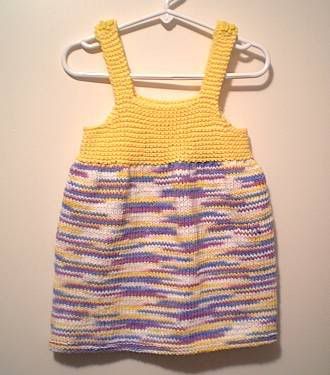 I am starting a matching teddy bear for her that will have a similar dress on it. I need to do this quickly, as I just found out yesterday that her first birthday was July 7th.


July 21 - Finished the matching bear, and decided to try to embroider lazy daisies on each dress front - I've never done that before, and it didn't come out too badly. Now to pack them up and find out the best way to send it to Israel.


Monday, June 23rd, 2008
---
11:44 am
- Carol's frog
Thought I'd post a few pictures of the frog I made for Carol. I took some outdoors, as I usually do before sending my gifts off to their recipients.

Here she is saying goodbye to the triplets.




Listening to Flute Frog play some tunes to remember



Saying goodbye to our pond before moving to Illinois.

Wednesday, June 18th, 2008
---
11:39 am
- Knit grass!!!
This is what one knits when one doesn't have a particular project in mind... I started this before Amy requested her gnome, and finished it the same day I finished Gnomey.

Taadaa... KNIT GRASS!







I know... I'm wacky, right?!?
Monday, June 16th, 2008
---
11:33 am
- Gnomey
June 18 - Here he is... meet Gnomey!
Made for Amy to take to college with her next fall -
she chose the colors and I really like them -
I think he looks very woodsy - PERFECT for going to a city school, right?!?


Being serenaded by Flute Frog



Catching a ride on a glass "bubble" by the pond



And last but not least... telling Impy a secret and making him promise not to tell!

Saturday, May 3rd, 2008
---
7:35 pm
- cloths
I've been making dish/wash cloths while being busy outdoors gardening lately. They are a quick project and pretty mindless. I also found an easy pattern for "tribbles" - little round thingies that can be used as body puffs, or dish cleaners. So easy and so cute!
And a dishcloth from a terrific book that Carol had sent me.

Saturday, March 15th, 2008
---
10:34 am
I've been wanting to make some cacti for a while, and finally found some free patterns. (I only do free online patterns - yes, I'm cheap!)

I gave the one on the right to Amy, and kept the one on the left for myself - he sits on the shelf just above the computer here, with his prickly pear friend that I had to transcribe the pattern online for. That one was not as much fun, but came out cute too.




And here is the prickly pear

Monday, March 3rd, 2008
---
7:18 pm
- Yet another bear!
A bear, a bib, and a ball!

Just finished these tonight for baby Nora.
Don will bring them to her mom, who works in his office, tomorrow...

Can you tell that the bib has a bear on it?


Saturday, March 1st, 2008
---
7:29 pm
- Alien!!!
I made this alien for Cindy - she says they are her relatives, and she was in the hospital so I wanted to try and help cheer her up. Took the baby gnome pattern and fudged it a bit to get the alien head!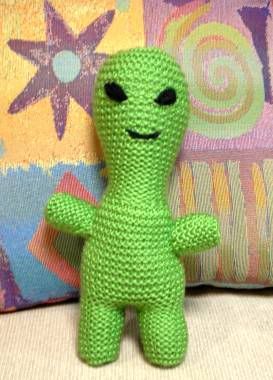 Tuesday, February 19th, 2008
---
7:16 pm
- another baby boy present
Presenting................ Gnome Baby!


Thursday, February 7th, 2008
---
7:12 pm
- Next project
Now that the girl bear is finished, I'm making something different to go with it.
I've been wanting to try this pattern for a few months now.

Can you guess what it is?
Nooooooo - it's NOT a bib!


I just LOVE these buttons that I found at WalMart yesterday -
they go so well with the yarn!!!



Feb. 10 - I stayed up 'til 1:30 this morning to get to this point of the project. On Friday, I had to frog 25 rows!!! Because I made the project just a teensy bit bigger than it calls for, and things were NOT falling into place. I hope I have gotten it right now, and I only have 1 last part to knit and then sew on the buttons.

Any new guesses?



Feb. 11 - And TAH DAH! Here it is all ready to gift...
A baby kimono sweater - made in one piece and folded like origami!


Saturday, February 2nd, 2008
---
7:09 pm
- Pink teddy bear
I'm making a pink teddy bear for an unknown baby girl! I got tired of knitting baby boy items, so I'll have this for the next girl that is born to someone I know! Got the body and legs finished, and now need to start sewing it up, adding the arms and stuffing.

Here she is in her dismantled state...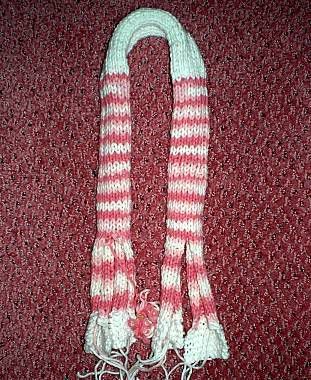 Feb. 03 - Just finished her! I usually put off doing the face, 'cause I don't really know what I'm doing, but this one went pretty smoothly. Hard to believe it's the same thing from above, huh?


Friday, February 1st, 2008
---
7:07 pm
- Log cabin blanket
Thought you might like to see what I've been working on in between all my other projects that are a bit easier to finish in shorter time periods. I'm not sure I like the color combos, and not sure what I'll do with it when it's finished - might donate it to a shelter or nursing home.

It's called a Log Cabin Blanket, and is knit in 18 rows on each side, around and around and around...

Monday, January 28th, 2008
---
7:02 pm
- fingerless gloves for Alaskans
Here are the 3 pairs of fingerless gloves that I knit last week, in a rush, to get them finished for my friends' visit from Alaska. I must say that their reaction was very UNDERwhelming... oh, well...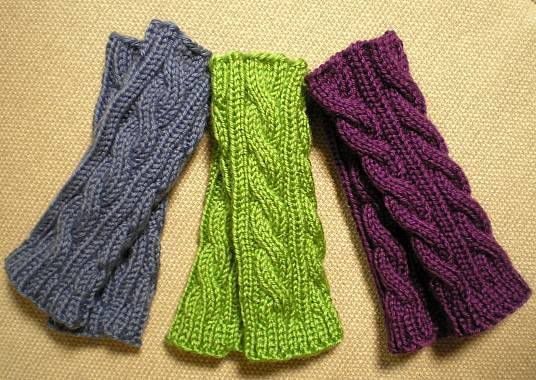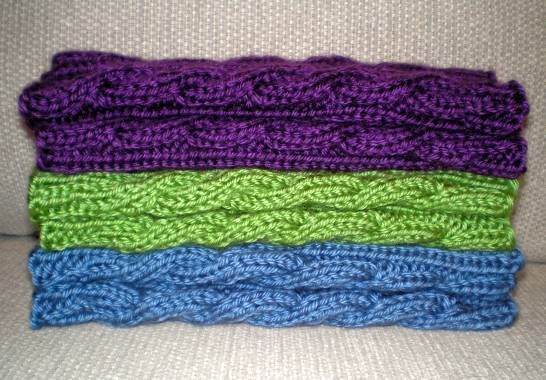 Saturday, January 19th, 2008
---
7:00 pm
- Sweater for Emmy
My next project was a doggie sweater for adorable Emmy - Diane's dog. They live in Texas but it still gets cold enough there for a short time during winter for Emmy to be able to use it. Here she is modeling the sweater.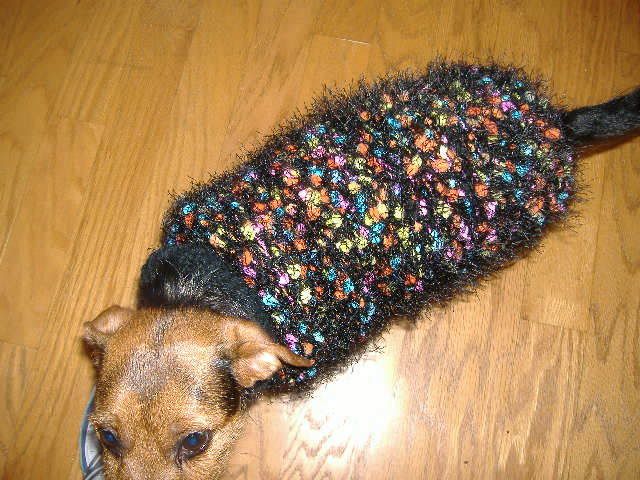 And some pictures of it before I sent it off to them...



And poor Roxie modeling it before I sent it to Emmy!